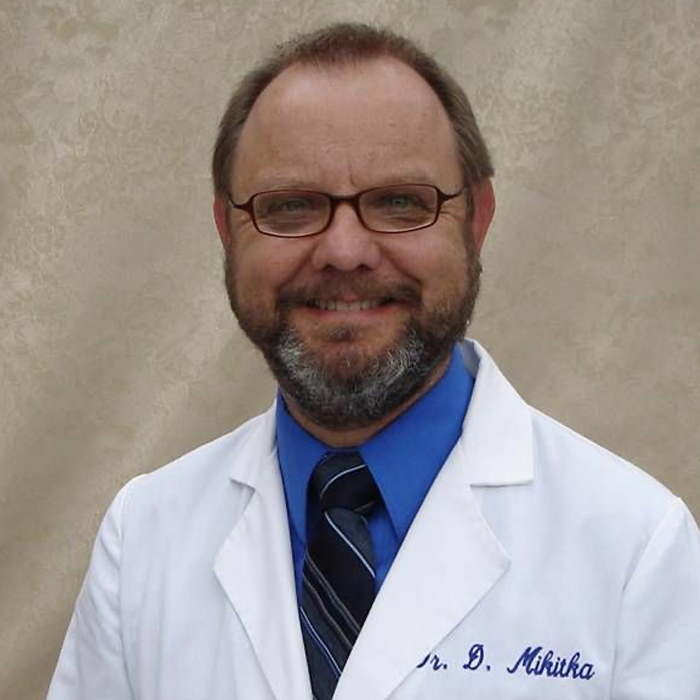 Dr. Dave Mikitka, DDS, MAGD
Dr. David Mikitka hails from a small town in the mountains of central Arizona where he stayed until graduating with an Associate of Arts degree from Yavapai Community College. He earned a degree in biology at the University of Arizona in Tucson and subsequently completed his dental education in 1982 at the University of Southern California in Los Angeles. Dr. Mikitka accomplished the first half of his dental career in the United States Air Force with assignments in Oklahoma, Texas, and Alaska. During that time, he provided dental care to members of all branches of the US military and their families as well as foreign national pilots and crew members in the United States for multinational training. Dr. Mikitka was accepted to a prestigious two-year graduate program in Advanced Education in General Dentistry at Lackland AFB where he received extensive didactic and clinical training in all dental specialties to include oral surgery, endodontics, periodontics, orthodontics, hospital dentistry, and oral pathology.
During his residency, he designed and completed a primary research project on the impact of tuberculosis on dental professionals. He lectured on the results of his research at a convention of the International Association of Dental Research in Seattle, wrote a scientific article published in a national dental journal, and ultimately his work was cited by the Centers for Disease Control (CDC) in their 2003 Guidelines for Infection Control in Dental Healthcare Facilities. During his career serving as an Air Force Dental Officer, Dr. Mikitka lectured and taught at a specialty board review course, created a board study guide adopted by all three branches of the US Military, was a faculty member of a one-year residency program, and commanded a combined medical and dental squadron at Altus AFB, Oklahoma. In 2003, he retired from his military career and has since practiced general dentistry in the Fort Worth area. He is a member of the American Dental Association and has achieved Mastership status in the Academy of General Dentistry. He has lectured on various topics to groups of dentists and local dental societies. Dr. Mikitka is married and has twin sons who currently live in Texas. In his non-dental time, Dr. Mikitka is a professional sculptor affiliated with the Fort Worth Art Collective and his work is shown and displayed in galleries, professional offices, and venues in the local area. He is also restoring an old home in a historic Fort Worth neighborhood and restores and renovates vintage Vespa motor scooters.